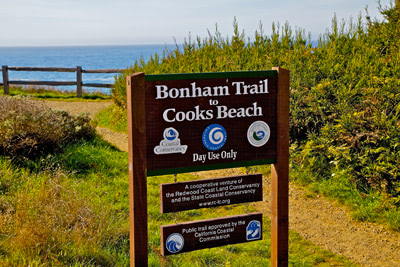 BEACHES, WALKS, AND RUNS
Most of the south Mendocino Coast consists of 50" to 100" high bluffs above a rocky shoreline. Here and there are beautiful beaches in protected coves. Most access is across private property and is therefore restricted. Several Serenisea Vacation Homes have access to "private" beaches. To wiggle your toes in the sand at beaches available to the public, we suggest:
Getchell (Serenisea) Cove: Adjoining Serenisea, great rocky cove for exploring tide pools, rock fishing, or diving. The path starts next to the Serenisea office. View the Serenisea Grounds.
Cooks Beach: About 2 miles north of Gualala, 1 mile south of Anchor Bay on C.R. 526. A perfect cove beach across the road and just south of St. Orres road (See pictures). Wind protected, with a gorgeous view overlook and well developed access trail. Limited parking by trail.
Anchor Bay Beach: A gorgeous 1/2 mile beach bordering Anchor Bay, 4 miles north of Gualala. A favorite, relatively safe beach for picnics, play, exploring tide pools, and launching small boats or ocean kayaks for fishing or diving. Access is via a path through the Anchor Bay Campground.
There is a small fee for beach access. If someone in your party is physically challenged, or if you have a boat, there are a few parking spots located in the campground. Check at the campground office.
Sea Ranch Beaches/Trails
Starting just south of the Gualala River Bridge along Highway 1 is the first of six beach access points adjoining or on the Sea Ranch. From north to south the access points are:
Gualala Point Park: This mile long beach is located between the Gualala river and the Pacific ocean. A great (and occasionally dangerous) spot to watch thundering surf in the winter. This park provides access to several miles of bluff trail along the northern portion of the Sea Ranch, providing the best hiking in the immediate area.
Walk-on Beach: Southern terminus of the bluff trail mentioned above. A quarter mile walk from parking to beach.
Shell Beach: Two-third mile walk from parking to beach and tide pools. Has ramp for launching small, hand-carried boats.
Stengel Beach: About 200 yards from parking to pocket beach. Seasonal waterfalls close by.
Pebble Beach: One quarter mile from parking to stairs leading to cove beach.
Black Point Beach: One quarter mile to a steep staircase dropping down to the best beach and best surfing spot on the Sea Ranch. Just north of the Sea Ranch Lodge.
All beach access trails open from sunrise to sunset. Surrounding lands are private. No campfires on beaches. No RV's or trailers in parking lots.
Other Beaches
Stornetta Public Lands: On the road to the Pt. Arena Lighthouse, a vast expanse of former ranch land fronting the ocean. Trails will lead you along the bluff to views of massive sea caves in the bluff face and even a couple of sinkholes where the cave roof has collapsed allowing you to view wave action in a hole 50" or more from the actual bluff edge. Kinda bizarre, kinda cool.
Manchester State Beach: (30 minutes north of Gualala) Over six miles of sand beach and almost no people. Wonderful for beach combing, picnics, or playing hide and seek in the sand dunes. The Alder creek access point is where the San Andreas fault goes out to sea.
Salt Point State Park: (25 minutes south of Gualala) Marine preserve, plus Kruse Ranch Rhododendron State reserve. You'll find miles of nature trails for serious hikers through this large state park, as well as pocket beaches, tide pools and great spots to picnic.
CYCLING
Although Highway One was designated Bicentennial Bike Route, we don't recommend it for casual riding. Shoulders are narrow to nonexistent on virtually all roads in the area. Better areas for pleasant rides include along the Gualala river. This ride starts just south of downtown Gualala, and may include backwoods logging roads, depending on permitted access at the time. Any stretch of the ridge road paralleling Highway 1 will give you a modest challenge and much less traffic. A good starting point is Bower Community Park. Serious cyclists can bike 20 miles of more of physically demanding road without having to "challenge" Highway 1.
For additional information on local rides, and bike rentals, call Adventure Rents at (707) 884-4386.
SURFING
Some of the best surf spots in northern California are in our area. They include:
About 14 miles south of Gualala, at the SON 44.2 mile post you'll frequently find cars and vans parked with empty surf board racks. An unmarked location with great action.
About 9 miles south of Gualala, at Black Point Beach just north of the Sea Ranch Lodge. Beautiful west-facing beach for summer surfing.
About 11 miles north of Gualala (1 mile + north of Schooner Gulch Bridge), Moat Creek access point. Marked but not very obvious. Also provides access to Bowling Ball Beach.
Arena Cove in Pt. Arena. On the north rim of the cove a quarter mile west of the pier. South facing rocky shoreline with most consistent action in the area.
Check here for coastal conditions: Mendocino Coast Marine Report and Northern California Surf Report
GUALALA RIVER
The Gualala River is a popular playground with locals. During the winter this is a favorite river for steelhead (an ocean-going trout) fishing. During the summer months a favorite picnic and swimming area for families is a broad sand and gravel bar about a mile upstream from the Gualala River Redwood Park Campground. Temperatures can be 10-15 degrees warmer here than they will be by the ocean. During the summer it is possible to kayak the estuary portion of the river. Adventure Rents rents kayaks from a location just downstream from the Gualala River Bridge. Watch for signs/banners. Adventure Rents rents kayaks, canoes, and bicycles. Call (707)884-4386 for more information.
SEA KAYAKING
For something different and exciting, try ocean kayaking. Force 10 Ocean Whitewater in Elk leads ocean kayaking trips during the summer months. Elk is about 40 minutes north on Highway 1. Call (707)877-3505.
HORSEBACK RIDING
Horseback riding is available through the family owned and operated Ross Ranch. Rides can be arranged for folks of all skill levels. Enjoy trail rides through the inland coastal mountains of Elk or along spectacular Manchester Beach. For reservations and information, call (707)877-1834. Beach horseback riding is also available at Ricochet Ridge Ranch in Ft. Bragg. Call (707) 964-7669. Ft. Bragg is located 1 1/2 hours north on Highway 1.
FISHING
During the winter months steelhead fishing is popular on local rivers including the Gualala, Garcia, and Alder creek. All local river fishing is catch and release. In the summer cabazone, and ling cod are the tastiest (and ugliest) of the fish sought by folks fishing from the rocks. These fish plus salmon and shark (small) can be taken from charter boats that operate out of Bodega Bay, Pt. Arena and Ft. Bragg. For Pt. Arena charter information call the Arena Cove Harbor Master at (707)882-2583. Fishing licenses are available at local sporting goods stores; including Gualala Sport and Tackle in the Sundstrom Mall in downtown Gualala. Before you pick up your pole, make sure you pick up a copy of the current DFG regulations, free where licenses are sold.
DIVING
The kelp forests along our coast are abundant with marine life, and divers will find lots of protected coves excellent for observing fish and marine creatures. Salt Point Park, located 1/2 hour south, is a marine preserve, and a popular spot for beginning dive classes. Every year a few divers who are in poor physical condition, or who choose to enter a rough ocean, lose their lives. Dive smart. Due to decline in the abalone resource the Department of Fish & Game closed the 2018 abalone season. Check the DFG website for current rules, limits, dates, etc. regarding harvesting abalone.
GOLF
The Sea Ranch Golf Course is open the public seven days a week. The original nine holes was rated among the top five, nine hole courses in the nation. The new back nine should measure up to that standard as it matures. The course is rated 72.3 by the NCGA. Green fees vary for weekdays, weekends, and holidays, and are quite reasonable for a privately owned course. Clubs, push and electric golf carts may be rented. For information and reservations, call (707)785-2468.
TENNIS
Two fine courts are available at Bower Community Park above Gualala. Sneak up during the week when the locals are not so busy getting their exercise.
WHALE WATCHING
The magnificent California Gray Whales leave their summer feeding grounds in the Arctic each Fall to travel 6,000 miles the warm lagoons of Baja California, where the females give birth to their calves. The whales pass near our coast going south in early winter, beginning around Thanksgiving. The bachelors tend to head north as early as January, with the mothers and their young following in March and April. They frequently come within a couple hundred yards of shore when northbound. A great viewing spot is the picnic table at Serenisea, and from most of the Serenisea Vacation Homes. During the summer months we occasionally see Humpback and Blue whales off of Serenisea. When around, they tend to spend their time feeding and playing. Perhaps one of the few benefits of climate-change?
BIRD WATCHING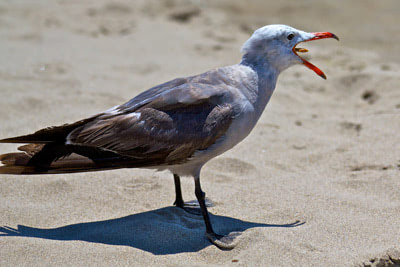 The coast is world renowned for bird watchers. From Thanksgiving through Easter, the Garcia River Flats north of Pt. Arena are the wintering grounds of the Whistling Swans. These lovely birds migrate here from the Arctic each year. A wayward Albatross has been sighted at the Pt. Arena pier for several years. Other migrating visitors include brown pelicans, egrets, Canadian geese, oyster catchers and many more. Local birds range from hummingbirds to jays, owls, quail, gulls, cormorants, woodpeckers, plus wild turkeys, hawks and a nesting pair of bald eagles. Other seasonal visitors include brown pelicans, egrets, and an occasional eagle. Local birds range from hummingbirds to jays, owls, gulls, cormorants, woodpeckers and a variety of hawks.
ENTERTAINMENT
On any given weekend you'll find everything from symphony concerts to local bands to "brand-name" artists performing up and down the coast. Check the current edition of the "Splash" section of the Independent Coast Observer (our local paper) for information about dances, concerts, BBQ's, poetry readings, drama, and lectures. The old Arena Theater in Pt. Arena has been restored and is now one of the most charming movie houses north of San Francisco. There's also the Gualala Video store to sate your hunger for Hollywood.
ARTS
There are several fine galleries in the area. Henley's Gallery, Stuart-Kummer Gallery, and The Dolphin Gallery in Gualala. Throughout the year, special art exhibits are open at the Gualala Arts Center. The Independent Coast Observer has detailed listing of concerts, recitals, and gallery openings scheduled during your stay. Each year, the third weekend in August, Gualala Arts sponsors the "Art in the Redwoods," a festival combining a juried fine arts show, craft fair, music, and drama. Gualala Arts also sponsors many other events during the year. For more information call (707)884-1138, or visit gualalaarts.org.
DAY TRIPS
For folks staying more than a couple of days, we suggest taking day trips to a variety of special locations to enrich your experience on our coast: Perhaps you'd enjoy:
Fort Ross — the last Russian settlement in the continental U.S. A historic fort on the ocean, beautifully restored. Interpretive center, picnic area, guides. Russian History Day held each year takes you back in time via the reenactment of events in the history of the fort. Call (707)847-3286 for information.
Anderson Valley — running from Boonville (a village with its own language — Boontling), to the mouth of the Navarro river you can experience everything from virgin redwoods to sipping some of the world's great wines made in the valley's wineries. Make the trip as a wonderful loop drive that will include about 40 miles of dramatic rural coastline in the bargain.
Mendocino — some call it Disneyland north, but it is still a unique combination of a well preserved, New England style village filled with Victorian homes, distinctive shops, galleries, and fine food emporiums. There's an excellent performing arts company. Call (707) 937-4477 for schedule and fabulous music festival on the bluff in July. (Call (707)937-2044 for information). Some outstanding state parks (just a few: Mendocino Headlands, Russian Gulch, Caspar Headlands) with extensive hiking trails are nearby for those who want to go natural.
Fort Bragg - The largest community on the Mendocino coast. Home to the Mendocino Botanical Gardens. Voted one of the Top 10 Botanical Gardens in the entire nation! Close-by is Glassfire, a gallery and studio when you can watch art glass being created. Also home to an interesting variety of shops and galleries that can't afford Mendocino rents.
The Skunk Train out of Ft Bragg. You don't have to be a rail buff to enjoy this trip in the California Western Railroad over the river and through the woods between Ft. Bragg & Willits. It you take the full day trip, be sure to visit the Mendocino County Museum in Willits with its world-class Indian basket collection and new steam railroad exhibit. Call (707)964-6371 for information.
RESTAURANTS
DINNER:
Reservations are highly recommended for weekends and holidays. The ratings are our very personal opinions about where we'd rather eat:
★★★★ ST. ORRES (south of Anchor Bay): romantic, specializes in wild game and seafood of the Northwest. A visual and culinary experience. Expensive, but worth it. (707)884-3335
★★★★ BLACK POINT GRILL AT SEA RANCH LODGE (Sea Ranch): romantic, marvelous ocean view, diverse menu incorporating the variety of foods available locally. Moderate to expensive. Call for reservations. (707)785-2371
★★★ COVE AZUL (Gualala, Cypress Village) Casual dining with good food and view overlooking downtown, river, and ocean. Steaks, seafood. Pasta. Full bar. Moderate. (707) 884-1835
★★★ THAI KITCHEN (Anchor Bay) Tasty & authentic Thai food in a casual atmosphere. Beer & wine. Moderate. (707) 884-4141
★★★ THE CHOWDER HOUSE (at the Pt. Arena pier, 2nd floor) The place to dine in Pt. Arena. Best local menu focused on seafood. Cove/pier view. Casual. Full bar. Moderate. (707) 882-3200
★★★ TRINKS (Gualala, Seacliff Center) The best spot in Gualala for breakfast, coffee, sandwiches and dessert also serves dinner three nights a week (Mon, Wed, Fri). Very eclectic menu, wonderfully prepared. Wine & Beer. Moderate. (707) 884-1713
★★ VUE Kitchen (Gualala downtown) By far, the most stunning dining view on the coast. Menu well prepared by rather traditional. Casual. Full bar. Moderate to Expensive. (707) 884-9180
PIZZA:
PIZZA/BAKERY at Sundstrom Mall (behind Gualala Hotel) Wonderfully crafted scratch pizzas. Drop-in or (707) 884-4055 to order.
UPPER CRUST PIZZERIA (Next to Gualala Hotel) Drop-in or (707) 884-1324 to order.
BREAKFAST, LUNCH AND COFFEE:
In Gualala:
TRINKS at the Seacliff Center (See above) Indoor and outdoor seating.
PIZZA/BAKERY at the Sundstrom Mall (behind Gualala Hotel) Where to go during day for pizza, bake goods, ice cream cones, and Mexican Food.
GUALALA or SURF SUPERMARKETS Where to go for good deli fare and sandwiches to go. The Surf fires up Tri-tip and Rib BBQ during summer weekends. Yum!
In Pt. Arena:
CARLINI'S CAFÉ (on Hwy 1, near theater) Old-style café with tasty lunch menu.
COVE COFFEE (at the Pt. Arena pier) The usual temptations in coffees, teas, and nibbles.
THE CHOWDER HOUSE (at the Pt. Arena pier) Clam chowder, burgers & booze.